Development
It is sad to have to say that throughout the long history of machine guns in the British service there has never been one of British design actually adopted.
The development of the Vickers MMG was a long, drawn-out process that started with the designs by Sir Hiram Maxim in the 19th Century and the Maxim Machine Gun.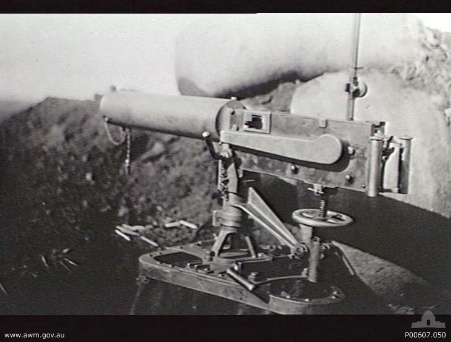 The advent of the development of the Maxim gun and the formation of the Maxim Gun Company in 1884 with Albert Vickers as Chairman, introduced the first true machine gun to the British service.
---
Pre-Great War
The Maxim MG was first purchased in 1887 and one instructional gun was issued, per Battalion, from 1890; however, the training courses for the obsolete Gardner and Nordenfelt Machine Guns continued until 1894. Even so, it was still the case that not all Infantry Battalions had received their Maxim MG by 1897.
Hobart (1971) identifies that, in 1909, the scale of issue was increased to two guns per Battalion. The Regular Battalions were provided with Mk. IV Tripods, while Territorial Force Battalions were issued with the Infantry Carriage, Mk. III.
An alternative to the Maxim was proposed by Vickers, Sons, and Maxim, (VSM) in the form of the 1906 Light Pattern. This used a corrugated jacket instead of the smooth jacket for water cooling. This meant that the strength required could be obtained but was lighter. It also redesigned some of the smaller components of the gun that reduced weight significantly.
A major development took place with the 1908 Light Pattern Vickers. This inverted the toggle mechanism of the lock which reduced the depth of the breech casing. This resulted in a physically smaller and much lighter weapon. This was adopted by the British Army for trials. It was referred to as the Class 'C'.
It became the Mk. I when it was adopted for British Service. This took place on 26th November 1912 by List of Changes 16217.
---
Manufacture
Whilst known as a weapons manufacture, shipbuilder, aeroplane producer and many other armaments, the Vickers companies (Vickers, Sons and Maxim; Vickers Limited; Vickers Armstrongs) were such producers of steel that they developed their own types, which were subsequently adopted as British Standards.
The standards used for the various components of the gun were as follows:
STA3 (Spring steel)
Used for:
Spring, fusee (heat treatment - low temperature treatment as required)
STA5/V2B
Used for:
Box, fusee spring, Mk. I
STA5/V3
Composition (%) other than iron

| | | | | |
| --- | --- | --- | --- | --- |
| Carbon | Silicon | Manganese | Sulphur | Phosphorous |
| 0.15 to 0.25 | 0.05 to 0.35 | 0.40 to 1.00 | 0.06 Max | 0.06 Max |
Used for:
Rivets
STA5/V4A
Composition (%) other than iron

| | | | | |
| --- | --- | --- | --- | --- |
| Carbon | Silicon | Manganese | Sulphur | Phosphorous |
| 0.35 to 0.45 | 0.10 to 0.35 | 0.60 to 1.00 | 0.06 Max | 0.06 Max |
Used for:
Block, trunnion, Mk. I
Cap, end, barrel casing
STA5/V4B
Composition (%) other than iron

| | | | | |
| --- | --- | --- | --- | --- |
| Carbon | Silicon | Manganese | Sulphur | Phosphorous |
| 0.45 to 0.55 | 0.10 to 0.35 | 0.70 to 1.00 | 0.06 Max | 0.06 Max |
Used for:
Cam, left hand
Cam, right hand
Tumbler
STA5/V4B-T1
Used for:
Body, rear crosspiece
STA5/V5
Composition (%) other than iron

| | | | | |
| --- | --- | --- | --- | --- |
| Carbon | Silicon | Manganese | Sulphur | Phosphorous |
| 0.50 to 0.60 | 0.10 to 0.35 | 0.50 to 0.80 | 0.06 Max | 0.06 Max |
Used for:
Tumbler
STA5/V9D-T3
Barrel
STA5/V22A
Composition (%) other than iron

| | | | | |
| --- | --- | --- | --- | --- |
| Carbon | Silicon | Manganese | Sulphur | Phosphorous |
| 0.65 to 0.85 | 0.10 to 0.35 | 0.35 to 0.70 | 0.05 Max | 0.05 Max |
Used for:
Plate, outside, breech casing, LH (to be heat treated to give 30 tons/sq in. Min yield 50 tons/sq in. Min Ult 15% Min Elongation)
Plate, outside, breech casing, RH (to be heat treated to give 30 tons/sq in. Min yield 50 tons/sq in. Min Ult 15% Min Elongation)
Washer, adjusting, No. 2
---
Sources
Hobart, 1971
This page is published by the Vickers MG Collection & Research Association, a not-for-profit company, limited by guarantee, registered in England, Company Registration Number 07855202 - www.vickersmachinegun.org.uk