British Service
The Army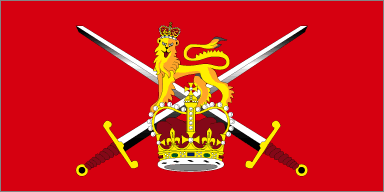 .303-inch Gun
At one stage or another, almost every unit in the British Army has used a Vickers Machine Gun. The form in which these guns were used, and the specific type of gun, is varied and changes by time and the role of the unit.
1912 - 1915
At the introduction of the Mk. I in 1912, the Machine Gun was held in the Machine Gun Section of Infantry Battalions. The Infantry Regiments of the time were:
The British Army Order of Battle for 1912 - 1915 and information on those units is available here.
In addition to this, Motor Machine Gun Batteries were formed as part of the Royal Field Artillery and attached to each Division as a mobile asset.
It went to war with the British Expeditionary Force in 1914 in this manner and, apart from an increase in the number of guns from two to four in February 1915, remained so until the 26th October 1915.
1915 - 1922
This date saw the formation of the Machine Gun Corps and the guns were centralised and formed into Machine Gun Companies and Squadrons which were attached to Infantry and Cavalry Brigades. In 1918, further centralisation took place and the companies were combined and formed into Machine Gun Battalions which were then attached to Divisions.
1922 - 1936
When the Machine Gun Corps was disbanded in 1922, the guns reverted to service as a Machine Gun Platoon of the Infantry Battalion, which later became a Machine Gun Company. The Cavalry used their MG assets as a Machine Gun Squadron of a Cavalry Regiment.
The Order of Battle for the British Army in 1922, and further information on those units is available here.
1936 - 1945
However, with the eve of war approaching again, 1936 saw the reorganisation and mechanisation of the Army and centalisation of MG assets took place once again. Rather than form a separate Corps, the centralisation took place in the form of converting Infantry Regiments into Divisional (Machine Gun), some of which later became Divisional (Support) Battalions. It had initially been intended to convert up to 14 infantry regiments; however, only four were finally chosen. The Regiments that had Battalions converted to the new role were the: